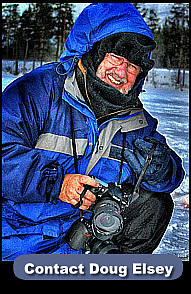 Doug Elsey is a professional engineer specializing in documentary photography in high-risk environments. During the past 15 years, he's participated in over twenty military exercises with multi-national NATO Naval Special Forces teams from Canada, United States, Iceland, Netherlands, Belgium, Finland and Norway. "His stunning and hard hitting images capture the moment and the emotions in the Arctic and tropical environments. He delivers excellent results," —Commander Rune Hausken – Norwegian Naval Special Forces.
Elsey was a project manager in five major undersea expeditions sponsored in part by National Geographic. They included undersea living experiments; the search for and discovery of the world's most northerly shipwreck; the first deep dives using helium under the Arctic Ocean; the first science dives under the North Pole; and the recovery of the ship's bell from the wreck of the Edmund Fitzgerald.
Elsey produced the engineering drawings for Sub Igloo, the world's first polar undersea station and was instrumental in its installation under the ice of the Northwest Passage on Dr. Joe MacInnis's Arctic 3 expedition. He was project manager for Dr. MacInnis Arctic 4 expedition. He has hundreds of hours logged beneath the Arctic ice and made the worlds first deep Arctic helium dive.
Elsey has worked and documented the commercial and military diving industry as a photographer and cinematographer in senior management positions for 45 years and has been a commercial diver/supervisor, submersible pilot, ROV operator, and diving instructor. He received a Lifetime Achievement Award from the Canadian underwater industry recognizing his ongoing contributions to that industry and also won the prestigious Award of Merit from the Canadian Standards Association in recognition of outstanding leadership and valued technical expertise in the development and promotion of standards for diving safety.
"Doug is the kind of photographer you want when it's 4 a.m., the temperature is forty below, and the ice is five feet thick," says Arctic expedition leader Dr. Joe MacInnis," he's smart, tough, and determined to get the impossible shot. And he does it with a wicked sense of humour."
Partial Client List
National Geographic Society – High Arctic and underwater photo documentation of major scientific expeditions.
National Geographic Adventure Magazine
Explore Magazine
Air Canada Enroute Magazine.
TV Ontario
Canadian Dept. of National Defence.
Toronto Sun Newspaper
Popular Mechanics Magazine
Science Magazine
The Globe and Mail Newspaper
Book cover "Breathing Underwater" – Dr. Joe MacInnis.
NATO Naval Special Forces.
Icelandic Coast Guard EOD Command
Norwegian Naval EOD Commando
White Squall Paddling Centre .
Oceaneering Intl. (cinematography)
Diver Magazine
Adventure Kayak Magazine
numerous websites, newspapers, books and  magazines….
TESTIMONIALS:
"Doug Elsey is a masterful documentary photographer. An essential member of my Arctic expeditions, he has an uncanny ability to "see" the shot and capture its essence. His experience as a ocean engineer and explorer of the natural world add unique dimensions to his work. Doug's the kind of photographer you want when it's 4 a.m. and the temperature is forty below. He's smart, tough, and determined to get the impossible shot. And he does it with a wicked sense of humour."
  —Dr. Joe MacInnis, physician-scientist, undersea explorer and author
 "In the last 20 years, our firm has contracted Doug Elsey to document a number of our major underwater projects in Canada, the U.S. and overseas. In his style of work, he combines the precision of a trained engineer with the eye and sensibility of an artist. He consistently turns in material that is not only thoroughly detailed, but also aesthetically pleasing. We are well satisfied with the results that Doug has obtained for us, and will continue to use his services in the future."
– Dr. Phil Nuytten, Technologist – Businessman President, Nuytco Research Ltd./Can-Dive Construction
"Doug Elsey has photographed the Deep Divers from the Norwegian Navy using their underwater breathing equipment during several exercises. His ability to capture the drama of our equipment being used in the world's most hostile and harsh marine environments has enabled us to prove beyond a doubt that we have tough gear for tough people. His value as a documentary photographer to tell our story is done with stunning and hard hitting images that capture the moment and the emotions both in arctic as well as tropical environments. He displays the NATO Special Forces Deep Divers in an excellent manner."
– Norwegian Naval Special Warfare Group – EOD Commando (Citation)
"Thank you so much for allowing us to use your art in Faceplate. Your photos tell the story better than the actual story, amazing work." …
– Faceplate Magazine, The Official Newsletter for the Divers and Salvors of the US Navy"
"Doug Elsey has a gift – it could be called a sixth sense, an internal instinct if you will – that results in his inherent ability to consistently capture the true ambience, at times serenity, and often drama, of the undersea…… he integrates seamlessly with any team to get the best out of the subjects and surroundings, orchestrating effortlessly as required. " … We are extremely grateful to you …..
– Canadian Experimental and Undersea Research Group /  UK Royal Navy Clearance Divers Group.